Click here to Download the
The Original Book
For Learning the Thai Alphabet
with Memory Techniques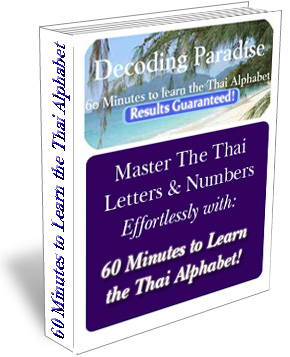 Imagine being able to recognize every Thai letter and Number within minutes !
The results are 100% Guaranteed.
View Testimonials from ZDNet.com, Download.com and more
Stop struggling with the thai alphabet right now. Use this system, and you will be able to read within minutes!
This is the original memory system for the Thai alphabet, and has sold thousands of copies since 2005.
We have been featured in every major Thai website and publication, including the Bangkok Post, The Nation newspaper and major blogs like WomenLearnThai.com and ThaiVisa.com
7 years of Development have been invested in this ground-breaking system, which will allow you to relate almost immediately, to one of the most difficult alphabet systems. We have devised a visual memory system, that relies on simple images, to enable you to immediately learn the sounds and shapes of the Thai letters.
How it works:
The thai letters are complex, with each letter representing up to two different sounds, and each consonant also being classified into low, medium or high class. Theses classes determine the tone of the thai syllable.
So you have to remember three pieces of information, when you learn the Thai letter:

1. It's Initial Sound
2. It's Final Sound
3. It's Class
This is incredibly difficult for students of Thai. But now this system enables you to learn the system effortlessly.
Here are some sample pages from the book, explaining the memory technique that is used:
Download Now!